Guy gets pulled over by cop and geniusly gets rid of drugs with helium balloons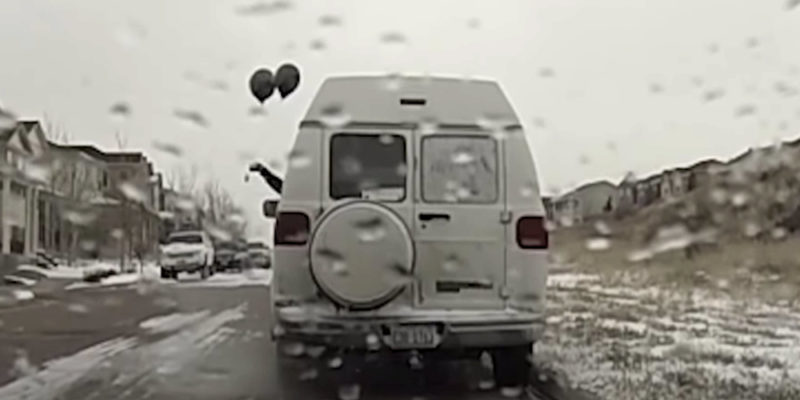 It's a shame that so many Americans still need to hide their marijuana from the police, but this video almost makes it worth it.
The man driving a white van in the video was reportedly pulled over by the police after failing to make a complete stop at a stop sign. In the video, another man—who has had his face blacked out and voice rendered unrecognizable—claims to be the officer who pulled the man in the van over.
"I approached the vehicle and explained why I stopped him and then asked if he had any contraband in the vehicle," says the alleged officer. The man in the van tells him "no," at which point the cop returns to his police vehicle to run the man's information.
In the video footage of the traffic stop, which appears to be filmed by a camera in the police car, you watch as the police officer walks back to his squad car. This is when you see the man in the white van stick his arm out of the window with two helium balloons attached to a small object. He tosses the object up in the air, and the helium balloons float into the sky, carrying the small unidentified object with them.
A few seconds later, the police officer is seen running back into the frame with his gun out, firing several shots into the air in an attempt to shoot down the helium balloons. But he is unsuccessful. Whatever the object was that was attached to the balloons, it was long gone.
Of course, nobody can be sure that the unidentified object was marijuana. Given the trouble the man went through to dispose of the object, it seems more likely that it was a harder drug like cocaine or heroin. Maybe it wasn't drugs at all. And maybe that's the beauty of this small act of criminal genius: we'll never know.
[youtube https://www.youtube.com/watch?v=Wp2CEJb4oyY?rel=0]
The post Guy gets pulled over by cop and geniusly gets rid of drugs with helium balloons appeared first on HERB.
Source: HERB co